REMIX OUTFIT
Pink
Ugg Boots From DSW~44.96
Hello Everyone. Since it Wednesday I decide to bust out my On Wednesday we wear pink shirt again. This time I decide to pair it with an oversized cardigan to stay warm. Since its a rainy day out. Lucky we have only got a little snow on Monday and none yesterday.
Some random thing for this Wednesday.
~ I have been loving the Bumble and Bumble straight blow dry that I got in my December Ipsy. I used it today on my hair and have been using it when I blow dry my hair. The first time I used it was on January 10.
~I'm also loving my double pearl earring.
~Still hating the new virus scanner. It block my blog on Monday. My husband had to go in and fix it to let it allow my blog to go thru. Also we learn if I can't get to your blog the first time I try. I have to wait an hour and try again. Then your blog will pop up. It sure is frustrating.
~They didn't have the same rug at the store that I got on Saturday. So I return the damage rug and had to get another one.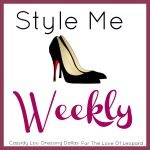 HAVE A GREAT WEDNESDAY.