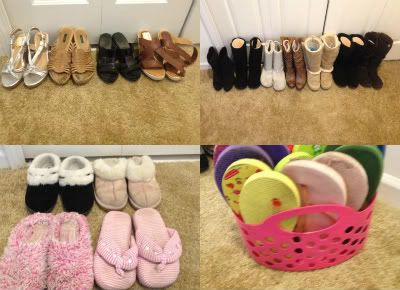 4 Pairs of Wedges~Silver and Dark Brown ones are new. Just got them in January
7 Pairs of boots~ Brought 3 new ones since I moved to Michigan
4 Pairs of Slippers~ Black ones are my favorite ones
Pink basket fulled with flip flops that how I storage them.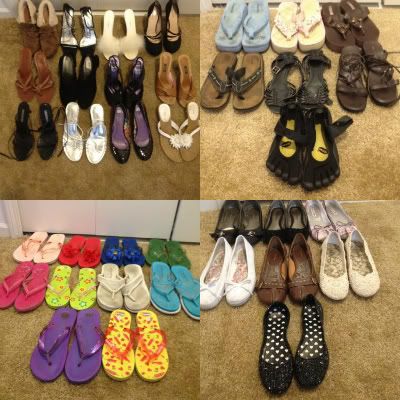 12 Pairs of Heels~ The white flower ones are my favorite
3 Chucky Sandals~ I love the brown ones. They were a birthday gift from my mom.
3 Sandals~ The black ones need to get replaced this year. Due to they are falling apart.
1 Pair of Five Fingers~ I love these shoe and so does Hubby he has 5 pairs of them.
10 Pairs of Flip Flops~ I'm banded from buying any more. I did have 12 pairs last year. I downsized.
7 Pairs of flats~ What can I say I'm a flat kind of girl.
Hello All. Today I decide to do an updated shoe collection. The reason I want to do this is because I get asked how many shoe I own. Which I didn't know anymore but now I do. Also I asked on my Facebook and twitter if you would like to see an update shoe or nail polish collection. I had one reply and it was shoe.
Last April I had 51 pairs of shoe. I now have 55 pairs of shoe. Right before I moved I donated 9 pair of shoes. Bring me down to 42 pairs of shoe. In the 6 months I been living in Michigan. I some how gain 13 pair of shoe. Which my next shoe purchase is going to be a new pair of black flat and sandals to replace mine. Since mine are falling apart.
I HOPE YOU ALL HAVE A GOOD WEDNESDAY.