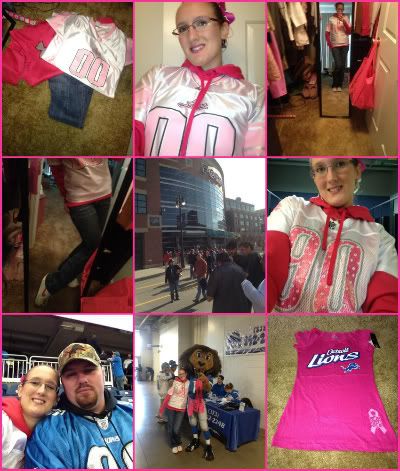 OFTD,FORD FIELD, LOINS AND ME, HUBBY AND ME AND NEW SHIRT.
REMIX OUTFIT
Pink

Under Armor Hoodie Christmas Gift From Hubby(2010)
Crystal Jeans From CR~7.49
Loins Earring and Necklace Gift From Hubby
Pink

Ribbon come off a Christmas Gift
Pink

Nike Ace 1983 A Gift From Hubby
Hello All. Here was yesterday outfit. I had a fun day out with hubby. We went to the lions game. Which it was a super good day but we lost again :(. In the morning hubby and me woke up and got ready. Then we went to Denny's for breakfast. After there we run to meijer to get can air. So hubby could fix his phone case. After we got the phone case fix we were off to the game. So we arrived in Detroit and had to find park. Which the cheapest we find was 30.00. So we parked and head to Ford Field. Where we had a hour to kill before the game. So we walk around for feild. Where hubby brought me a pink Suh Jersey and a BCA Tee. He also got him self a Suh Jersey and We bleed Sliver and blue tee. It told us 3 stand to find the Suh jersey in hubby size. After we find one and got it. We both change our jersey. Hubby was wear a black Best Jersey when we left the house.
After the game we did a little food shopping for tonight dinner and lunches. Then we pick up pizza for last night dinner and watch Hanna. So over all it was a fun day.
Today item is the The Ribbon Shop. If you are looking for Pink Ribbons you can buy some thu this site.
I HOPE YOU ALL HAD A GOOD SUNDAY.