Right Top Corner~
September 1st, 2014 Sally Hansen Salon Insta Gel Strips in Perfect Poison
Left Top Corner~
September 10th, 2014 O.P.I Bring on the Snowflakes and Sally Hansen Crackle Overcoat in Distressed denim
Bottom Right Corner~
September 18th, 2014 Covergirl Outlast Stay Brilliant in 325. Ring finger is Sally Hansen Salon Insta Gel Strips in 420 Perfect Poison
Bottom Left Corner~
September 26th, 2014 Nicole by O.P.I in Challenge Red-y on top of that is Emmi - Easy UV polish in Red Glitter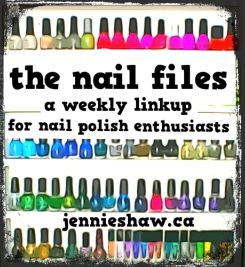 Hello Everyone. It that time again for another monthly recap of my nails and the polish I used. Since we are in fall now. I went with some darker color. Which I have to tell you all I'm not a fan of black nail on me. So I don't see anymore black nail manicure in the feature.
This month I tried out blue crackle nail polish. Which I have had this polish for 2 year and this was the first time it used it. I pair the blue with a silver polish to repentance the Detroit Lions. I also try out the insta gel strips again. Which I'm still disappoint in the fact you can only get one use out of them. This time I thought maybe if I tape the package back up I could used them again. Which it still was a no go. So I did what I did last time to reuse them. Which is add nail polish on your nails then slap the ista gel strip on them. For 10.99 these aren't worth my money. I did find out some dollar tree in the state sale them. I will say if I ever find them for a dollar. Then I will repurchase them but there no way I will pay more then a dollar for them.
Also this month I try out the Emmi-Easy UV Polish in red glitter. I have to say I really like it with the red polish under it.
HAVE A GREAT SUNDAY.