REDISCOVER/ REMIX OUTFIT
Neon

Pink

High Low Shirt Christmas Gift From Janet(2012)
Arugula Canvas Drawstring Vest From Old Navy~20.96
Flare-Leg Jeans~ C/O Kmart 21.99
Pink

Flower From Family Dollar Store~1.50
Pink
Lacquered Anchor Circle Earring From Forever 21~1.50
Olive Green Flats Hand Me Down From My Friend G
Hello Everyone. I had no idea what I want to wear today. I just knew I was going to wear something pink. Lucky Curvy Girl on the Run. Is hosting a style challenge for October on Instagram. Today item to wear is something olive. So since the only thing I own that is olive is this cargo vest and pair of flats. I knew that what I would style. So at first I put on a pink button up long sleeve and the vest.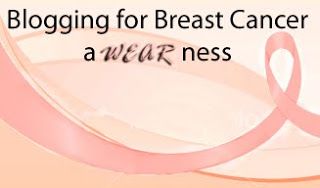 After a couple of minutes of wearing it around the house. I decide I would get to hot with the long sleeve. Since it supposed to get up to 22 Celsius(71 degrees). So it was back to the drawing board. I went in my solid t-shirt drawer and pulled this neon pink shirt out. That I haven't worn in over a year. Due to I don't like how it fits on it. It a reverse high low shirt. The front is the longer then the back of the shirt. Which is just weird to me but over all I do like the color and the neck on this shirt. I feel if I loss so weight I will like it better.
An InLinkz Link-up
Today Breast Cancer Topic is Men Breast Caner. They also get breast cancer too. So lets not just think about the women. You can read an article from
TIME
on mens breast cancer. This article is from 2007.
HAVE A GREAT
THURSDAY